Young Boy
A young boy takes a break from playing to gaze intently into the camera.
Bird Caged Outside of Muslim Home
Birds in cages hang outside Muslim homes and are considered good luck. Many of the villagers compete their birds in singing competitions.
Drying Clothes
It is common to see clothes hanging outside of homes on every block in the village.
Hanging Pants
Portraits in Traditional Thai Home
Portraits in a Thai home are angled down so the viewer can look up at them.
Keaw
This 96-year old woman, Keaw, lives in a traditional Thai house and she is cared for by her daughter and a caretaker.
Keaw's Necklace
Picture of a monk hangs around her neck close to her heart
Drying Fish in the Sunlight
Dried fish is a common food found in Thailand. The fish are dried in the sunlight.
Muslim Man in Full Dress
Many Muslim men in the village wore their Shalwar Kameez on this day.
Haircut Day
Hair falls to the floor in this small barber shop in the village.
Barber
A barber in this village pays around 2,000 Baht per month for his shop rental.
The King
It is common to find images of the King in homes and stores. This image was found hanging from a tusk in a barber shop in the village.
Young Girl
Fishing Boats
Boats are anchored close to the shore of the town.
Good Fortune
This retired fishing boat stays outside the fisherman's home. The hopes in keeping the retired boat is that past catch would bring good fortune.
Good Fortune II
Detail of the wood bottom of the retired fishing boat.
Laead Sangkawe
Laead lives in a traditional Thai house. Before she lived here, her mother owned it. The house is almost 162 years old and located in the center of a now-Muslim community.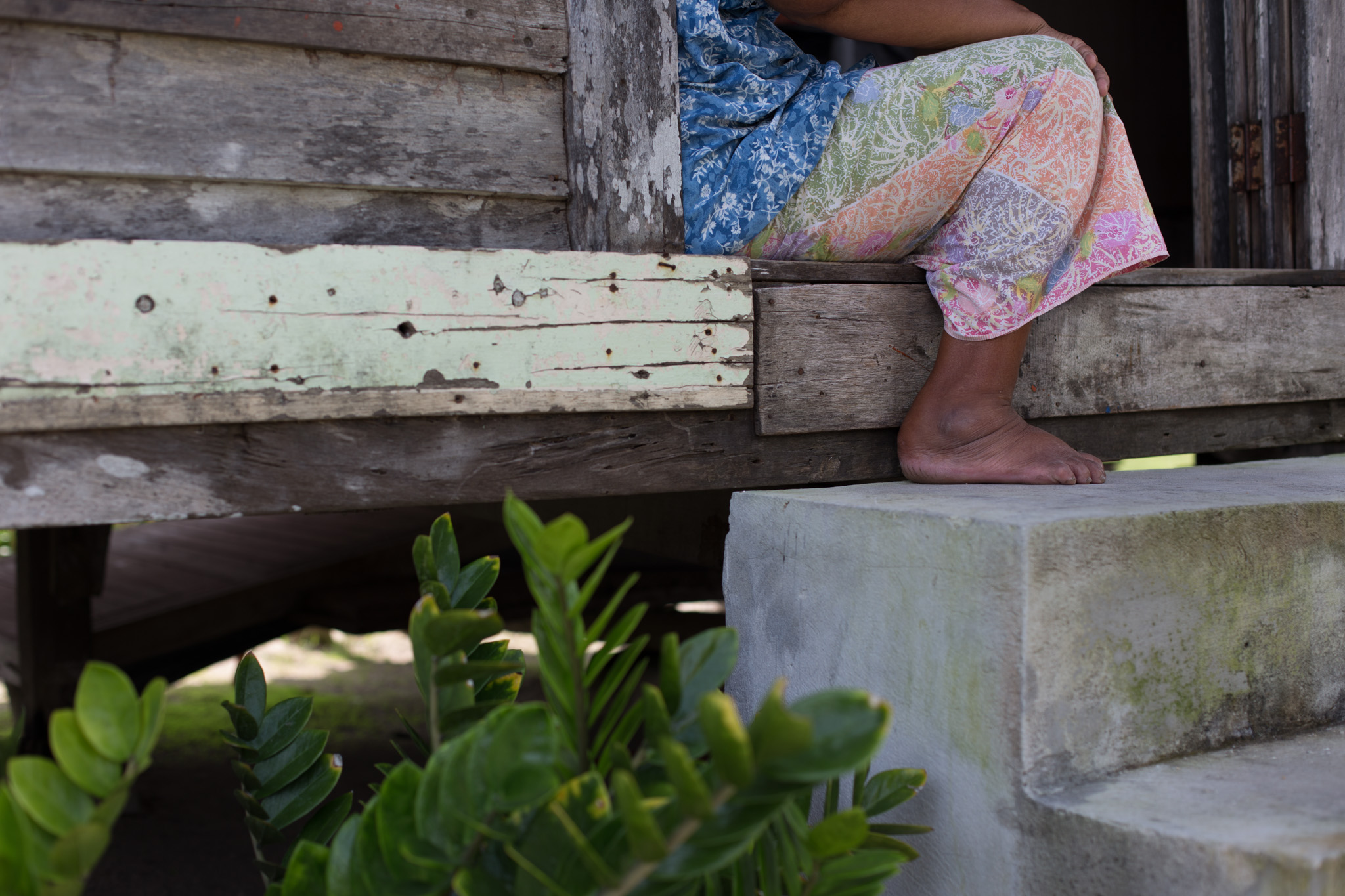 Foot on Step
This traditional Thai house is made out of wood planks. It has a lot of character and some dents and cracks can be found in the wood.
Washing Feet
Washing the feet or taking the shoes off before entering the house is a tradition in Thailand.
Hand On Water Jug
This ceramic water jug is located outside of the house. Before there was so much pollution, the jug would be filled with rain water.
Covered Floor-boards
In Laead's house, this vinyl material covers the wood slat floorboards.